Autodesk Revit – Advanced Tips and Tricks Course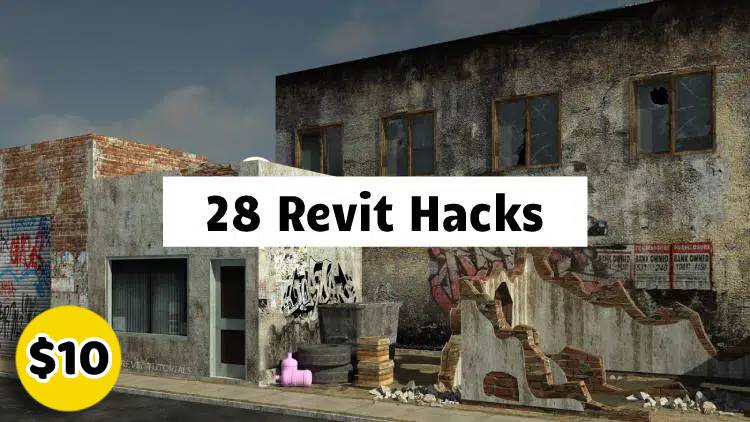 About Course
This 28 Advanced Revit Hacks Course is made to share with you the techniques I learned over the years working with Revit. Whether you're a beginner or an experienced BIM Modeler, this course has something for you.
Who is this Course For?
Architects
Students of Architecture & Exterior Design
Hobbyists
Construction Professionals
Anyone with an interest in 3D Modelling in Revit.
What you will learn?
You will learn 28 Revit Hacks. Below is the list of tips and Tricks you will learn in this course:
▸ Quickest Way to Create Multiple Levels
▸ Creating Base and Crown Moldings
▸ Curbs Using Texture Image
▸ How to Create Sidewalks and Curbs on Topo Surface
▸ How to Create Custom Shaped Mullions
▸ Modeling Classical Corner Elements (Quoin detail)
▸ How to Model Classical Wall Panels
▸ Copy Materials from One Project to Another
▸ Perfect way to Create Hidden Ceiling Lights
▸ Place Text on Curved Wall
▸ Create Stair Over Topo Surface
▸ Easily Create Radial and Elliptical Array
▸ Add a Revolving Door in Curtain Wall
▸ 5 Important Tips in One Lecture
▸ Convert 3Ds Max Models to Revit Components With Materials
▸ Create Spanish Roof Tiles
▸ Create Cool Rendering Using Revit+Photoshop
▸ Place Ceiling Based Lights on Roof/Slabs
▸ Creating Concrete and Grass Pattern
▸ Practice #1| Modeling Realistic Curtains
▸ Practice #2| Modeling Twisted Columns
▸ Practice #3| Modeling Domes
▸ Practice #4| Modeling Domes 2
▸ Practice #5| Modeling Ruined Buildings (Part 1)
▸ Practice #6| Modeling Ruined Buildings (Part 2) | Advanced
▸ Practice #7| Texturing Techniques
▸ Practice #8| Modeling Ruined Buildings (Part 3)
Downloadable Resources – Exercise files, Components, Textures for every lecture & section so you can follow along step by step. as well as you will get  50 Revit Project files bundle with course for free!
How does it work?
You watch the videos, complete the exercises, and start building your skills. You can ask questions in the community group as well as post work and receive feedback.
A couple of things to note:
This course is taught by a practicing professional in the arch viz industry (8 years work experience and 6 years teaching experience)
The instructor has over 1000 students and an average 4.3 rating on 4 available courses (on Udemy)
So, what are you waiting for? Join now for immediate, lifetime access to all content!
(note that this course will be taught on the windows version but the same techniques can be applied in Mac as well)
Show More
What Will You Learn?
Learn 28 Advanced Revit Hacks to Improve Your Workflow in Revit.
Course Content
28 Revit hacks
Quickest Way to Create Multiple Levels

Creating Base and Crown Molding

Creating Curbs Using Texture Image

How to Create Sidewalks and Curbs on Topo Surface

How to Create Custom Shaped Mullions

Modeling Classical Corner Elements (Quoin detail)

How to Model Classical Wall Panels

Copy Materials from One Project to Another

Perfect way to Create Hidden Ceiling Lights

Place Text on Curved Wall

Create Stair Over Topo Surface

Easily Create Radial and Elliptical Array

Add a Revolving Door in Curtain Wall

Important Tips in One Lecture

Convert 3Ds Max Models to Revit Components With Materials

Create Spanish Roof Tiles

Create Cool Rendering Using Revit+Photoshop

Place Ceiling Based Lights on Roof/Slabs

Creating Concrete and Grass Pattern

Practice #1 | Modeling Realistic Curtains

Practice #2 | Modeling Twisted Columns

Practice #3 | Modeling Domes

Practice #4 | Modeling Domes 2

Practice #5 | Modeling Ruined Buildings (Part 1)

Practice #6 | Ruined Buildings (Part 2) | Advanced Texturing Techniques

Practice #7 | Ruined Buildings (Part 3)